Obuwie HAIX GSG9-S 2.0 zostało stworze z myślą zapewnienia jak największego komfortu oraz bezpieczeństwa wszystkim użytkownikom. 
Materiałem głównym użytym w produkcji jest skóra hydrofobowa, oddychająca (5,0 mg/cm2/h) o grubości 1,8 – 2,0 mm oraz membrana CROSSTECH® firmy Gore®, która gwarantuje nie tylko wodoodporność, ale także niezawodną ochronę przed krwią i płynami ustrojowymi. Wewnętrzna podszewka zapewnia świeże stopy: wodoodporna membrana CROSSTECH® pozwala stopom oddychać. Trójwarstwowy laminat kieruje ciepłe, wilgotne powietrze na zewnątrz, dzięki czemu nie gromadzi się w bucie.
Podeszwa zapewnia wysoki komfort zginania oraz znakomite właściwości chodzenia. Wykonana jest z odpornej na ścieranie, antypoślizgowej gumy i PU (poliuretanu). Podeszwa środkowa z PU zapewnia doskonałą izolację od podłoża przed zimnem i ciepłem. Jest niebrudząca, antystatyczna zgodna z normą EN ISO 20347:2012. Wkładka o anatomicznym kształcie, bardzo dobrze pochłania wilgoć i szybko schnie. Wkładka jest wymienna - z możliwością prania.
Ponadto skóra cholewki odbija promienie słoneczne i zapobiega nagrzewaniu się buta (Sun Reflect). Specjalna podszewka na górnym końcu wału odprowadza wilgoć z buta operacyjnego. Dzięki opatentowanemu systemowi sznurowania szybkie ubranie oraz dopasowania obuwia jest bardzo łatwe. Dwustrefowy system sznurowania umożliwia dopasowanie obuwia do stopy. Obszar kostki jest dobrze wyściełany i chroni przed uderzeniami bocznymi i kopnięciami. 
Buty fabrycznie nowe w oryginalnym opakowaniu. Gwarancja producenta 12 miesięcy.
Obuwie dostępne w terminie 14-20 dni od złożenia zamówienia. Buty w rozmiarze od 12,5- 15 o 20% droższe ze względu na podwyższone ceny tych rozmiarów u producenta.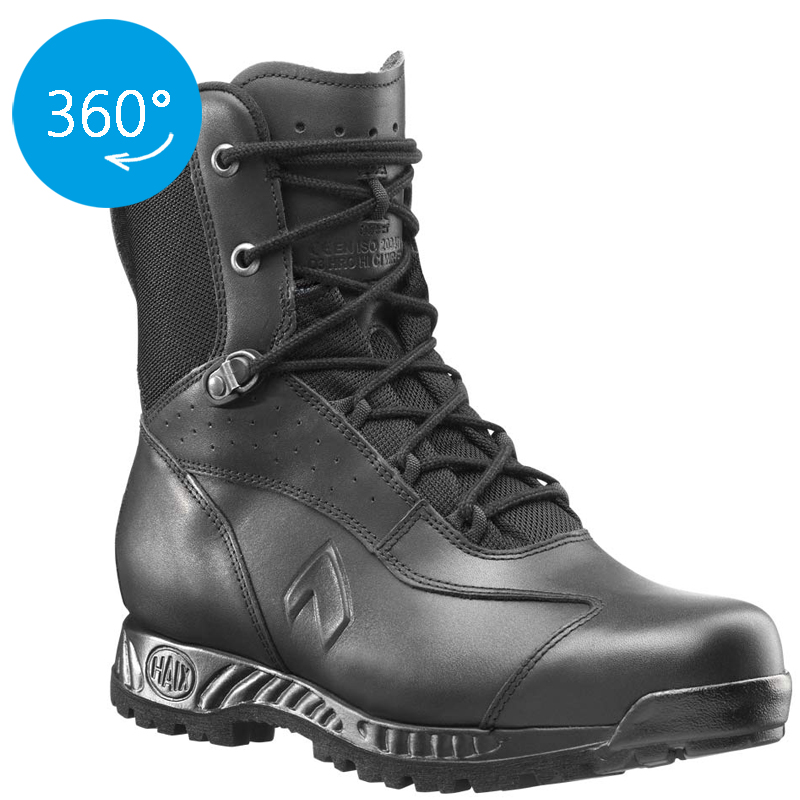 UK 8.5; EU 43; US 9.5; BW 275
4044465489358
Sun Reflect systemMore
Pigments in the black leather used in the boot's construction reflect the sunlight in order to avoid any unnecessary heating.
anatomically shaped insole
HAIX Climate SystemMore
The HAIX® Climate system uses the pumping movement, which permits air circulation with every step – warm air is released and fresh air comes in through the vent holes at the top of the boot.
Certification according to
CE EN ISO 20347:2012 O3 HRO HI CI WR FO SRC
| Size | UK | BW | US | EU |
| --- | --- | --- | --- | --- |
| UK 8.5; EU 43; US 9.5; BW 275 | 8.5 | 275 | 9.5 | 43 |
Rozmiar BW odpowiada długości stopy na jaką obuwie jest przeznaczone. Wkładka jest odpowiednio większa w celu zachowania komfortu.